Lily was a full size Nubian and daughter of Saada El Cid *B.
She had wonderful ears and a super sweet temperament,
as well as great lines in her ancestry.
LilyBelle is the Dam of Breezee Creek's Miracle of Miracles.
We are very proud of the kids she has given us,
and look forward to what they will produce in the upcoming years.
LilyBelle was sold to the Shears in 2013
Congrats Shears, you've got a wonderful girl there!
Cap N Bell Miss USA I'm Prettie
Prettie was a very strong, healthy girl
who blessed us with very flashy, healthy kids.
She had very nice form, even won
Grand Champion Junior Doe in the MDGA Wine Country Classic.
She was Full sister to our girl Cap N Bells Black Ravon.
Her kids retained for our farm are
Breezee Creek's Prettie's Princess And Breezee Creek's Prettie's Glory.
We are very proud of these girls,
and look forward to them doing their Mom proud in future.
We lost Prettie May 20, 2014 to illness. We miss you Prettie!
Red Earned her *P on One Day Milk test via MDGA 2015
Red is a 1st gen. 75%/25% grade mini Nubian.
She has gorgeous conformation, and a fantastic Udder!
She also gives lovely kids, and loads of milk!
Sold to Lindstrom family.
Cap n Bells Black Ravon

Ravon is a 1st gen. 87.5%/12.5% mini Nubian doe.
We're always excited to see what we'll get from our "Herd Queen,"
she gives lovely quality kids with smooth toplines and strong faces.
Sold to Lindstrom Family.
Mazie is a 2nd gen. 70.31%/29.69% mini Nubian.
Mazie's kidded twice for us, big strong healthy kids.
She has a great milk supply and very sweet personality.
Sold 2016
Breezee Creek's Miracle of Miracles
She is a 1st generation mini Nubian (81.64%/18.36%) Doe
Born March 20, 2013 to LilyBelle.
Mimi has a super sweet personality, and great mothering instincts.
We let her raise her daughter, Charlotte,
and she has grown SO well off Mimi's good milk.
Sold with Maizie, 2016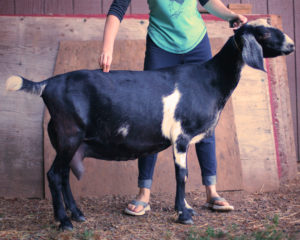 Breezee Creek's Pretties Princess
She is a 2nd gen mini nubian (75.39%/24.61%) doe
Born March 24, 2013
Princess has one of the sweetest personalities I've ever seen,
she's perfectly content to just stand beside you in the field
if you'll just keep a hand on her shoulder or scratch below her chin.
We've retained Princesses daughter by Royal, Princess Eloise.
Princess sold November, 2018