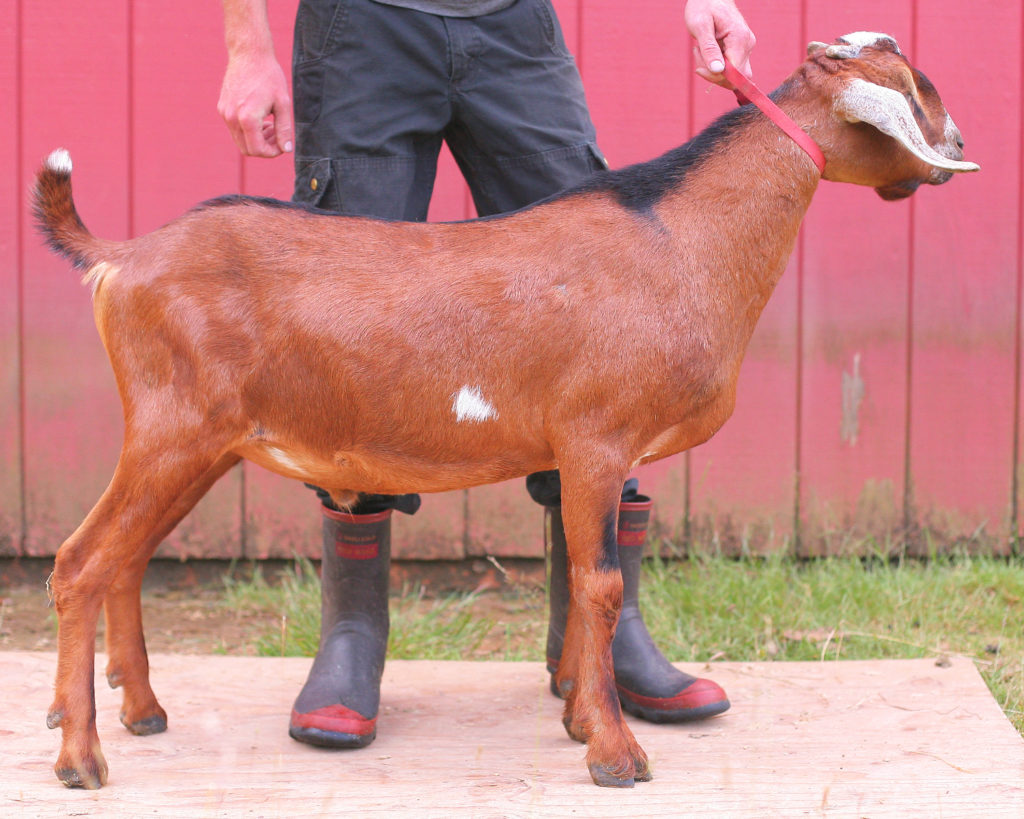 Delica's Elle Golden Boy Roy 
Available for $400
Roy has taken Grand Champion in the Vshow and performed well in live shows.
His dam has gone 2 years in milk for us and is a super easy keeper.
Heavy milking lines top and bottom of pedigree. He is a little timid during meal times,
so we try to feed him separate from the other bucks to insure he gets what he needs.
He's EXCELLENT for adding with, length of body, adding brisket, and improving breed character.
He's served us well, and we are retaining kids from him so need to move him on to keep our buck numbers down. He is bezoar (brown) and carries the mahogany/red cheek pattern.
Sire Dancing Goat Garden's Valhalla
Dam Delica's Elle Winsome Delight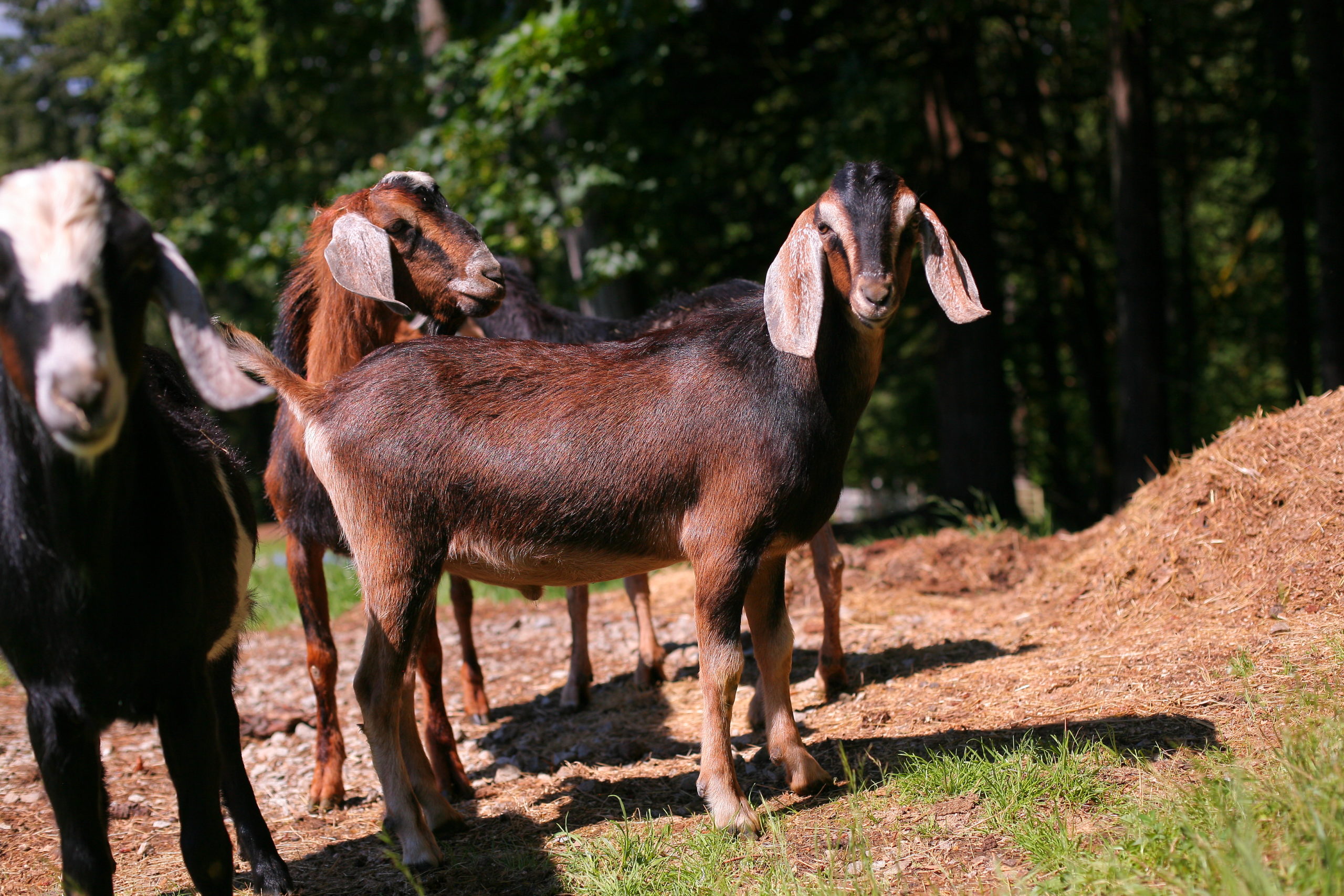 Breezee Creek's GBRH Rowan
For Sale: $350 registered, or $250 unregistered
2021 4th Gen Mini Nubian Buck
Dam is a mega milker, earned her star as an ff and continues to qualify just for fun each year since.
Sire also come from big production lines with extended lactations.
Once deposit is received I will get him registered,
can have registration application ready to go with him if he's wanted before his papers are ready.
He's a Mahogany (red cheek) bezoar combo.
Dam is Breezee Creek's Holly *P
Sire is Delica's Elle Golden Boy Roy
Breezee Creek's Kirkland
For Sale: $400
2020 4th Gen Mini Nubian Buck
Kirkland is the last buckling from his sire, who we owned for 7 years before he died. 
His dam has a very nice udder. both sire and dam have been super easy keepers while with us. His deep bodied, long rump, sweet tempered, gets along fine with the other boys.
Sire: W4's Sir Royal Roan
Dam: Delica's Elle Victory Lane (see updated photos below)


Breezee Creek's Handsome Jack P8
Available: $500
April 27th, 2022
5th gen Mini Nubian Buckling
Black and Tan (possibly buckskin with extended cape), frosted ears and muzzle.
Jack is a real favorite this year. He's big, strong, deep, wide, dairy, long…
Linebred on his dam Winsome (see lower on this page). He's got beautiful roman nose, long ears, beautiful long, level rump, and nice rear leg angulation.
We are confident he would be an asset to any mini program.
Dam: Delica's Elle Winsome Delight
Sire: Delica's Elle Golden Boy Roy
Delica's Elle Victory Lane
Available: $450
Victory is a 4th gen Mini Nubian (58%/42%) Doe
Born April 3rd, 2019
Victory took Grand Champion Junior Doe at the PNWMDGC Summer Sensations 2019 Show! She's VERY wide, and fast maturing for her age! Great head and ears, length of body, dairy strength, and goes back to some of our favorite lines! We are SO excited to watch her grow and develop over the next few years!
Victory is a very easy keeper, she literally gets fat on air, haha! She big, beautiful, solid, strong.
Makes a good amount of delicious milk. Excellent mom. She's not a huge fan of getting on the stanchion, but once she's on she lets us milk her just fine. She would do great in a smaller herd where she could get more one on one attention. * Pix above are from her first freshening, no separation; we'll be getting updated photos soon!
We are keeping her daughter this year, so Victory can leave once baby is 12 weeks: July 26th
Out of Delica's Elle Play For Keeps
by Dancing Goat Garden's Valhalla
Delica's Elle Winsome Delight
Available: $200
Winsome is a 4th gen Mini Nubian (67.51%/32.49%) Doe
Born September 6th, 2016
We purchased Winsome in summer 2019. We had gotten to meet her at the first PNWMDGC Summer Sensations show, and then found out she was available a couple months later! Her udder texture is amazing, and teats are a great size for handmilking! Love her strong chest, long rump, and smoothly blended body as a whole. We LOVE Winsome. But, she's had a couple rough kiddings, most recent caused a serious infection of her birth canal, so we feel she should be retired and find a home where she can be an affectionate pet for the rest of her life.
She's raising her buckling to 12 weeks then can be dried off and ready to go: July 21st
Out of Blackberry's Mallory *P
by Blackberry's Lincoln
Please Check Out Our New Arrivals Page to see available kids!
We have 1 doeling and lots of wethers still available!
About Our Whethers: We would like to get $100 for them. They are from proven lines, and their mothers are on site as well. We only ask that they have a happy life. The reality is that their life as a whether will go in either one of three directions, they will become a family pet and a companion for other animals on a farm, they will be a pet that lives life as a brush eater, or they will become meat for a families table. We implore any that buy one of our animals, particularly our whethers, that they will be treated kindly. That they will not be tethered for longer than two hours at a time and will be allowed fresh air and quality alfalfa and the same regular care and treatment as you would any other quality animal on your property. We also strongly suggest that you refrain from feeding any goats prepared goat chow or goat feed (it is too sweet with molasses, and blocks mineral absorption) and that bucks and whethers are NEVER fed grains of any kind! Grain causes the growth of Uric Calculi and will kill a boy goat within days often before you know he was suffering. The only way to prevent this is to feed them Ammonium Chloride which is proven to have its own side effects over time.
Lastly, If you buy a whether for meat, that he be killed at time of slaughtering in such a way that he will be so happy he won't even realize what is coming and that it is done quickly and precisely to prevent any needless suffering. GOD's word says we are to regard the life of our beast. I cannot with a clear conscience sell any of my goats to anyone I am not confident will take this concept seriously.