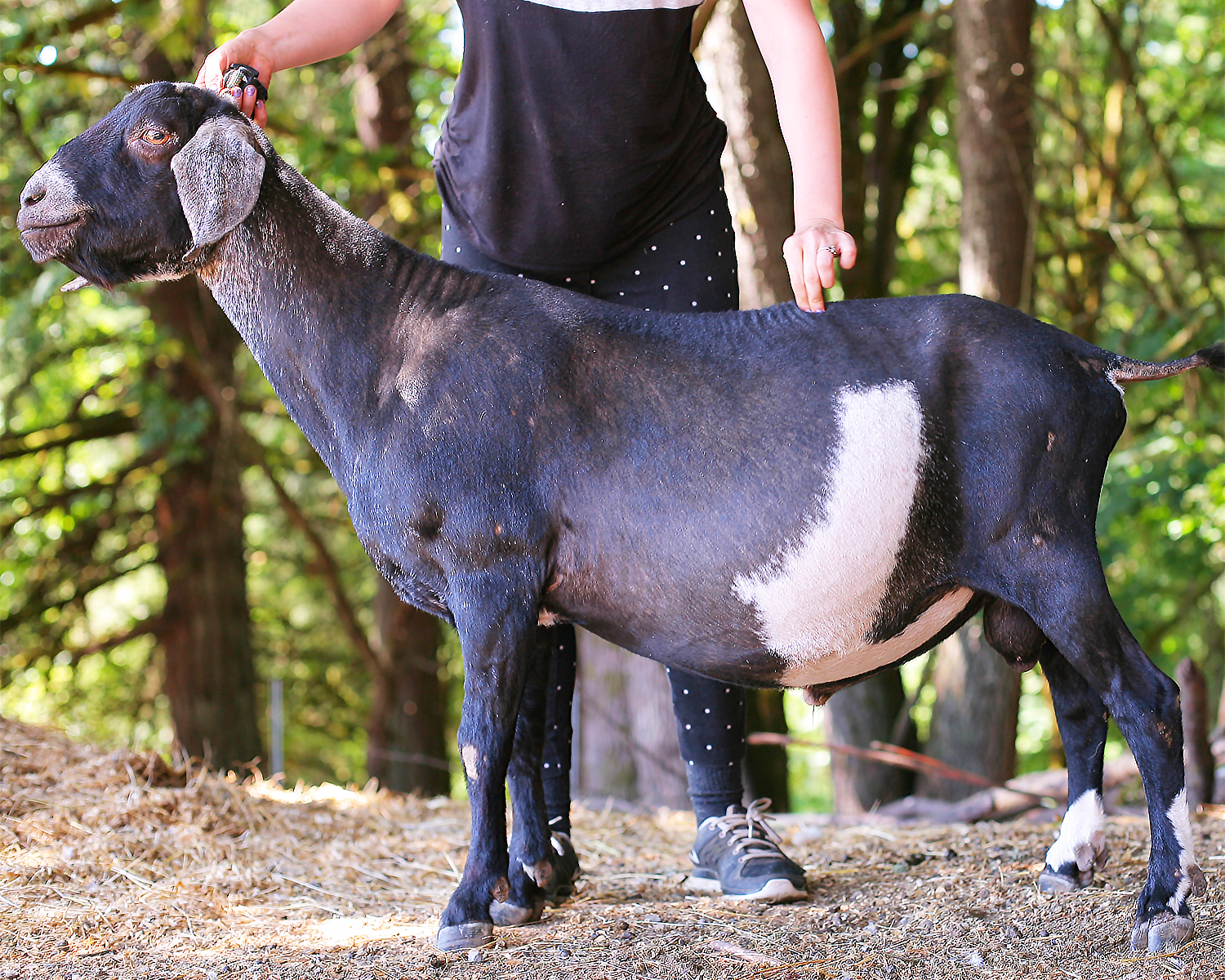 W4′s Sir Royal Roan
Tested G6S Normal
Royal is a 5th gen. American Mini Nubian (53.12%/46.88%) Buck,
Born April 8, 2013
Deceased December 24th, 2019
(Barber Pole Worms)
Royal is a very small, stocky, hairy, well built little buck.
He has good rear leg angulation, excellent breed character,
good angulation from hips to pins, and lots of width.
He comes from very strong milk and show genetics,
which we're hoping to see flourish in our herd.
Out of Echo Hill's Sweetie's Sonora by Crooked H Black Magic

Show Quotes:
At 2 months old Royal attended the MDGA Wine Country Classic 2013 At which, he won 2 Grand Champion ribbons and 1 reserve Champion.
Also in 2013, Royal won 1x Grand Champion Junior Buck and 1x Reserve Champion Junior Buck in the MDGA Summer 2013 V-show.
"His advantage in general appearance…he is more open in the flank, with a flat chest floor and wonderful breed character."
-KarenTorrence, MDGA Summer 2013 V-Show

In 2014, as a yearling buck, Royal was entered in the MDGA Fall 2014 V-Show. In which, he was placed 1st in his class in 2 rings, and took 2 Reserve Champion Senior Buck awards.
"Buck 2 places over 1 for his advantage in Body Capacity, specifically his greater depth in the heart. Likewise, he is fuller in the crops, which, in turn, gives him an advantage in General Appearance in his greater smoothness from the point of shoulder into the brisket. He is also higher in the escutcheon and and more open (wider) in the hocks."
-Tamera Tayler, MDGA Fall 2014 V-Show
"Sr Yearling buck #2 is Reserve Sr. Ch. for his advantage in angularity and sharpness over the older bucks in competition for Rs. Sr. Ch."
-Tamera Tayler, MDGA Fall 2014 V-Show
"2 over 3 for length of rump and having tail head placed more properly between pin bones.  And being slightly straighter on fore toes."
-Tim Flickinger, MDGA Fall 2014 V-Show
"My Reserve Sr. Champion which is found in the SR yearling class.   He excels in his general appearance and dairyness over the animals in competition"
-Tim Flickinger, MDGA Fall 2014 V-Show

Royal was entered in the MDGA Summer 2015 V-Show
He placed 4th in ring 1 and 1st in ring 2:
"This buck should be commended for his blending
as well as levelness across the topline."
-Kaylie Piver, MDGA Summer 2015 V-Show
"We start the class out with a sharp, angular buck.  
Our #2 entry is over our #1 entry,  for his smoothness of blending of the neck into the withers.  We also see dairy character with more rear leg angularity from both the side view and the rear, where we see a more open rounded arch in the escutcheon."
-Crystal Eutsler, MDGA Summer 2015 V-Show
Royal also took Grand Champion Senior Buck!
"The Senior Nubian buck Champion will be our 2 year old.  We see a long lean neck, with lots of angularity, we see smoothness of blending in the shoulder from all angles,
and a nice arch and width at the escutcheon."
-Crystal Eutsler, MDGA Summer 2015 V-Show

Royal was Entered in the MDGA 2015 Fall V-Show
He placed 2nd in Ring 1 and 1st in Ring 2:
"…Strength of chine, tightness of elbows and dairyness."
-Margo Piver
"      Entry #1 over #2 in general appearance due to length of neck which blends smoothly into the withers and is stronger in the topline and for dairy character showing better angularity of dairy wedges from the top and side. " -Lavinia Allen
Royal was entered in the MDGA 2016 Fall V-Show
He placed 1st in his class:
"A is placing over B today for his strength in pasterns
and his advantage in body capacity."
-James Oller
Royal at 1 month old: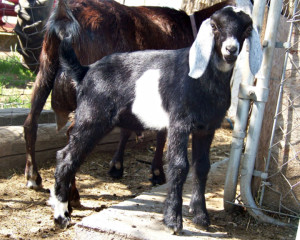 Height:
2 years old: 25 1/4″
Royal's kids:
2015: Bred to 5 does,
produced 5 does, 5 bucks.
2016: Bred to 3 does,
produced 3 does, 4 bucks.
Royal's Kids Achievements Click Here
Royal's 2nd freshening daughter, Daystar's Heavenly Sunshine:
Pedigree:

<Sire: Crooked H Black Magic
(G6S normal by Parentage,
2x CH Legs)
Dam:  Echo Hill's Sweetie's Sonora
(2x CH Legs)>
Full 6 gen Pedigree here:
W4's Sir Royal Roan
Royal, as a 2 month old, 2013:
Royal, as a yearling buck, Fall 2014:

Royal as a 2 year old, summer 2015:
Royal as a 2 year old, Fall 2015: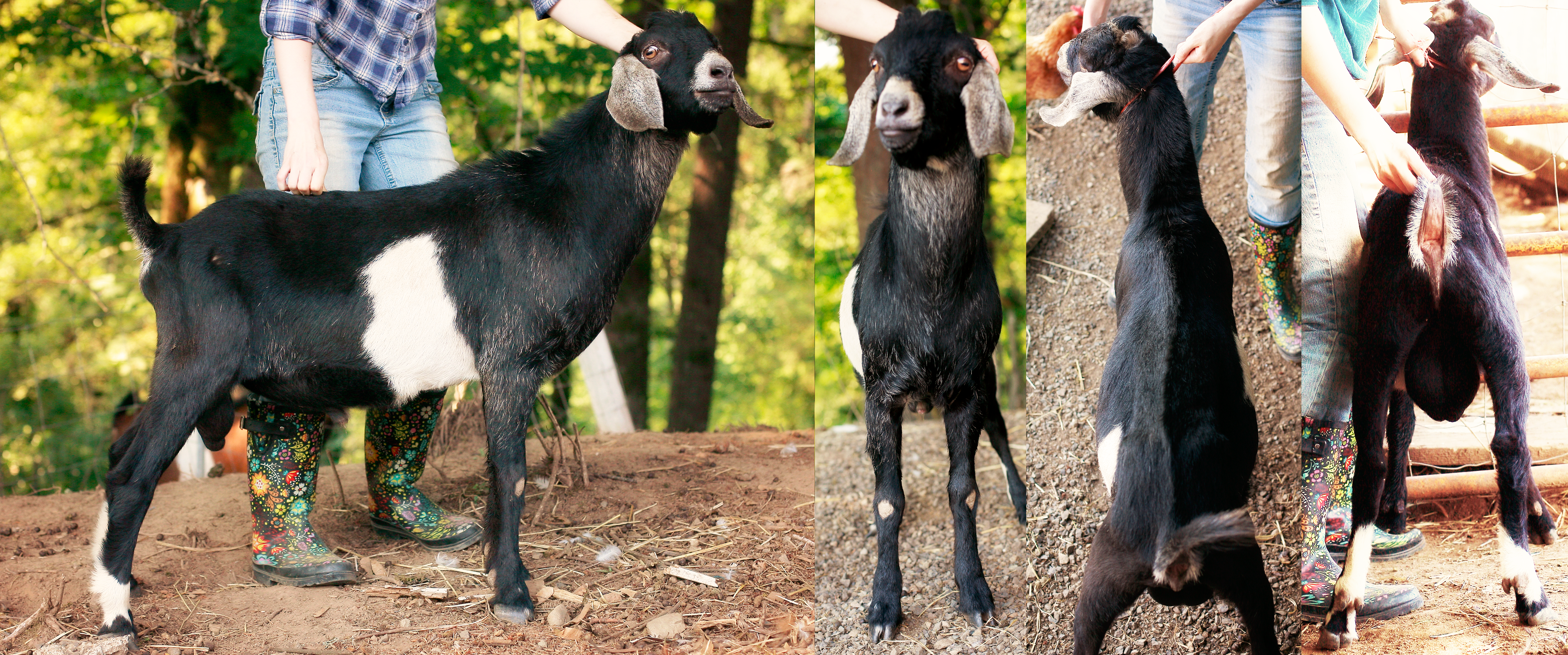 Royal as a 3 year old, summer 2016:
Royal at 4 years old, summer 2017:

Royal at 5 years old, summer 2018:


Royal September, 2018:

Royal, July 2019: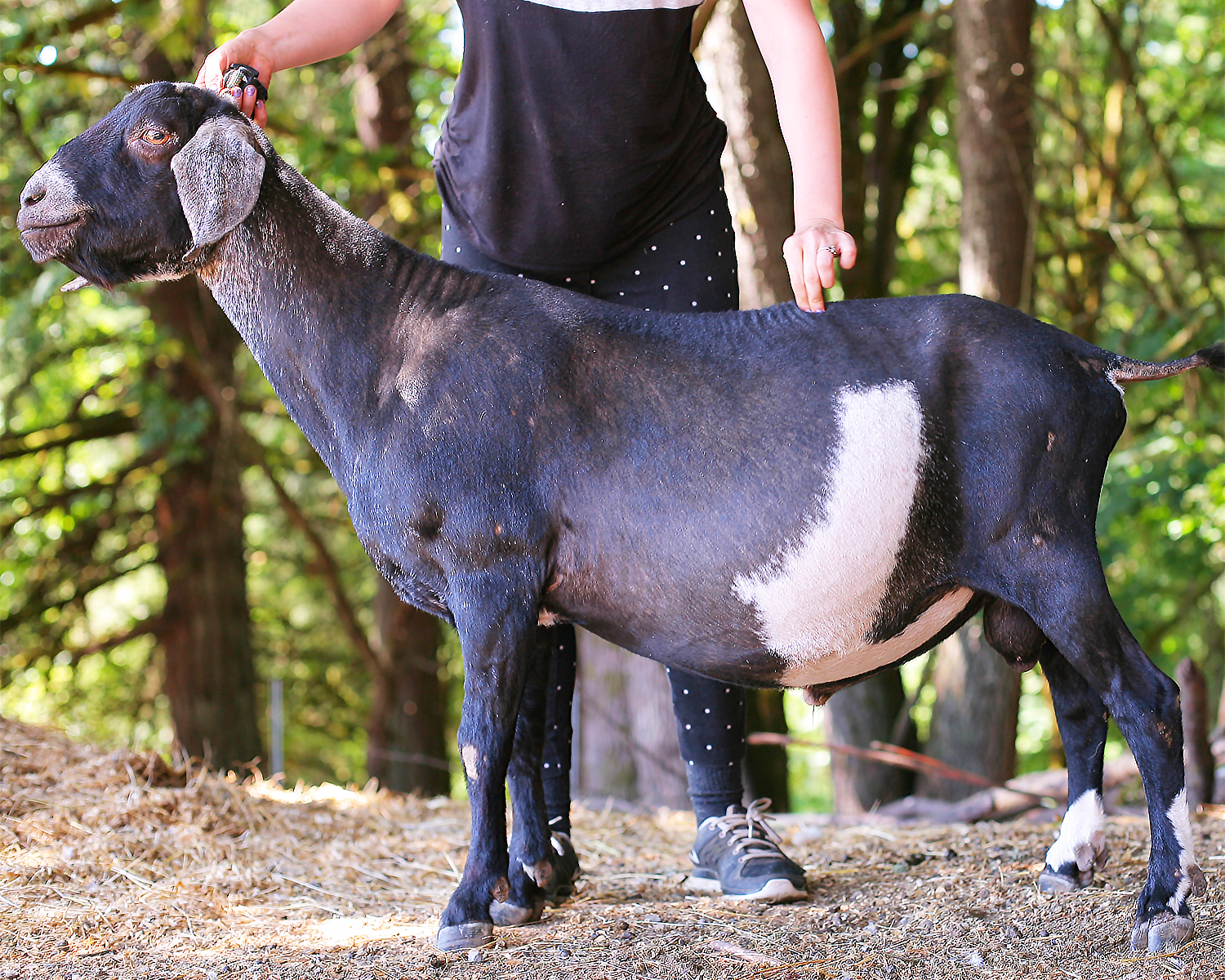 ~Owned by Sarah, Breezee Creek Sista~
BCF Legacy